Let me be clear. There are many, many ways to get a good image and good sound in self-tapes. You could go nuts and shoot on a BlackMagic Cinema camera, and use asynchronous sound recording via the top Sennheiser microphones.
Or not. There are ways to get really really good images and sound using very basic, affordable equipment. Here are a few suggestions.
Camera
Your Smartphone
You've probably already figured this out, but even your circa-2015 smartphone is pretty much the ideal camera for self-tapes (so much the better if you've got a recent model). The footage will be right there, ready to send off… with, possibly, a few judicious tweaks:
Filming App
Filmic Pro (or similar)
Sometimes, your native camera settings are going to leave you looking jaundiced, or washed out, or too deeply shadowed.
And maybe your reader's voice has a kinda booming (or conversely, murmuring) quality.
No worries. With a relatively recent smartphone, you can use a film-making app to adjust these levels (both light and sound) before you hit send.
Honestly? I need to get hip to these apps. Please send me your tips. Because round-tripping your footage through an external editor (I've been using the free version of Davinci Resolve, which I learned for my gorilla filmmaking) can be a pain. And a time suck. And earlier submissions are worth the time learning a new app. Right?
So, on to your supporting equipment:
Clip on Zoom Lens
Sirui Black 60mm Portrait Lens
59mm or 60mm cellphone clip-on lenses are a great way to flatter your face, and keep your shot within the backdrop without having to crop in post. You can clip this lens onto most cell-phones, tablets and even laptop cameras.
This attachment is for your standard medium close-up shot. You'll want to remove it for a "cowboy" (knees to top of head) or full-body slate. (Which, by the way, can be handily shot in vertical mode by turning your camera.)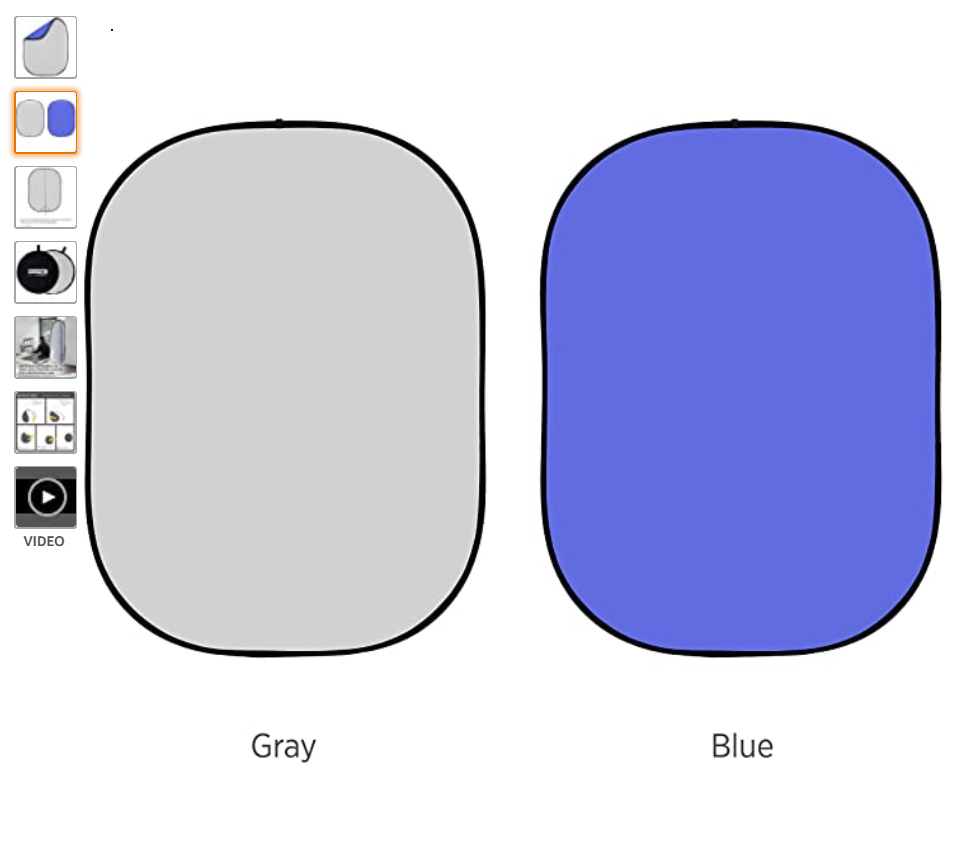 Backdrop
Blue and grey are two preferred colors for self-tapes. This pop-up backdrop has both. You'll need a way to rig it at the right height behind your head (and yes, balancing it on a stack of cardboard boxes works). It can be folded down (tricky! but doable) from a huge 5′ x 6.5′ backdrop, to a reasonably sized case to stow away under your bed or sofa. Or…
Roller Shade – Neutral Backdrop
Chicology Cordless Roller Blind Shade
A pull-down roller shade can give you a nice clean backdrop. And grey is a good neutral color that flatters many skintones.
I bought this shade because I didn't have an unfurnished wall big enough to use as my shooting area. During non-shooting days, it lives tucked away above my closet, rolled up and unobtrusive. And it's a breeze to pull down and set up.
Just be sure to get a shade wide enough so that your framing doesn't fall off the sides of the backdrop. I suggest at least 52″ wide, and enough length so that it hits the floor (so your full body slates — or at least cowboy shot slates — are covered).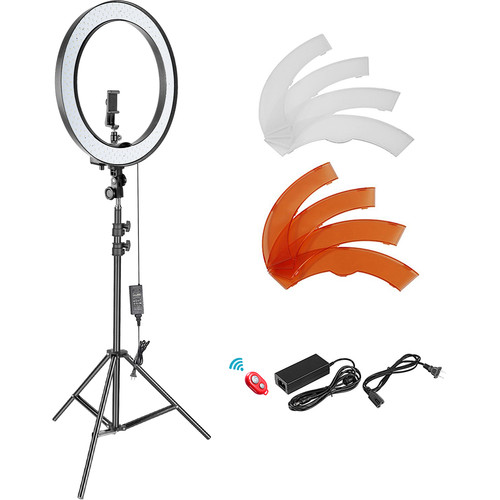 Ring Light & Cellphone Stand
Ring Light and Cellphone Stand
A ring light is an ideal primary light source if you are going to work exclusively in a medium close-up. The light is soft and flattering, and makes your eyes sparkle. Great especially for comedy, romantic comedy, and commercial work.
And… I will admit I never use these. For me, I like the old-school three point lighting. So, I use:
Daylight LED Bulbs
For fill light in your medium close-up, or for your primary sources for a wider shot (for example, your full body slate), you'll need nice bright lights, softened with some diffusion. There are many, many variations on LED fixtures. You want very bright, dimmable, daylight bulbs, so you don't start to look jaundiced. LED's save energy, and are more affordable in the long run. CEC's are the most color-accurate.
Sure, you could buy a fancy barn-doored LED light that's meant to be portable, travelling to set, but you'd still need to power it, and let's face it, they aren't pretty. Why not just put a truly excellent bulb into one of your existing fixtures? You'll still need to figure out diffusion, but more on that below…
Okay. Go forth. Get your set-up nailed down. You'll be so glad when the audition comes in and you're not scrambling to create your in-home studio. Because when it's go-time, your focus should be on your inner life and your given circumstances. Not on the damn tripod or lavalier connections.
You're welcome.