Don't let working from home stop you from developing as an actor.
We're offering classes online, to keep your skills and instrument ready for the brave new world.
Make a commitment to yourself.
Use this time well.
And start practicing your self-tape skills now. The new paradigm of auditioning has arrived. Make it second nature.
Self Tapes Are Here to Stay
an overview by Celia Schaefer
Casting directors are embracing the self-tape as their primary, first-round audition method for finding the right actor for a role. Many of them were on this path before the pandemic, and most of them have joined the trend now, and are saying that this will be the way forward.
https://youtu.be/jEnN3DdaN5c?t=4178
It's a new set of skills and practices for actors to master, and if it's going to be an important part of the process of making connections and building relationships, it's worth learning how to do well.
What you want to keep top of mind is "How do I best capture my work, so that the viewer can see/hear/feel the power and nuance of what I am doing?"
Once you understand the scene as an actor, this is going to take some stepping back, and putting on your director's hat.
What is the style of this scene?
What medium? (2,000 seat musical theatre? black box drama? Film? TV?)
What is the key turning point in the scene?
What is the necessary physical life of the character, and how can I economize with it?
How do I best capture my character in the frame?
There is an on-screen common culture that we're all accustomed to. How do you adjust your choices so that they don't defy that culture (or if they do, do it mindfully and purposefully)?
Some actors think on screen choices need to be "smaller." I encourage you to change the self-talk around that to "more grounded" or "more covered" (i.e., the character has a secret) or "more receptive" (bringing the listener closer with openness). There are ways to open the door into camera-ready choices that say "Yes!" to your instrument, instead of "No."
Part of capturing your work is mastery of the tech. Unless you have an in house director of photography (or aspiring DP lover/spouse/parent/child), you'll probably need to master these skills yourself.
To help you get your home studio ready, here's a guide to some of the equipment that can serve your self tape process.
Self-Tape Equipment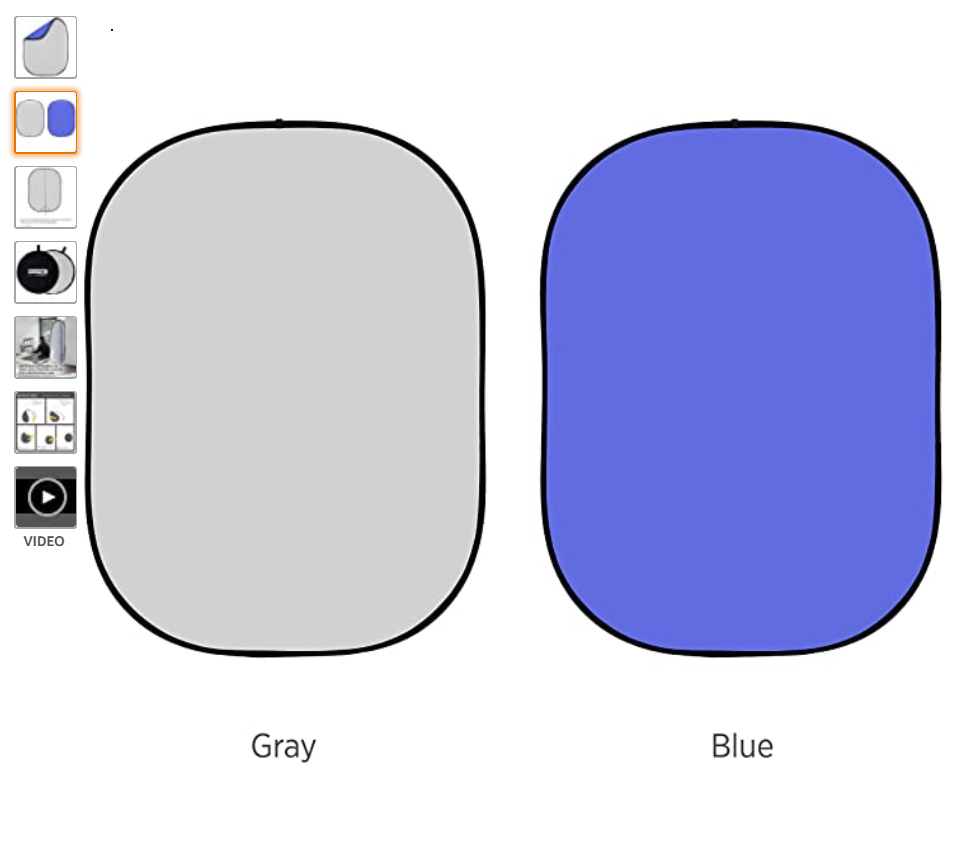 Two-Sided Pop-up Backdrop
Note: The blue/grey version of this Pop-up backdrop is currently out of stock. Search online for equivalent.

Blue and grey are two preferred colors for self-tapes. This pop-up backdrop has both. You'll need a way to rig it at the right height behind your head. It can be folded down (tricky! but doable) from a huge 5′ x 6.5′ backdrop, to a reasonably sized case to stow away under your bed or sofa.
Roller Shade – Neutral Backdrop
Chicology Cordless Roller Blind Shade
A pull-down roller shade can give you a nice clean backdrop. And grey is a good neutral color that flatters many skintones.
I bought this shade because I didn't have an unfurnished wall big enough to use as my shooting area. During non-shooting days, it lives tucked away above my closet, rolled up and unobtrusive. And it's a breeze to pull down and set up.
Just be sure to get a shade wide enough so that your framing doesn't fall off the sides of the backdrop.
Roller Shade – Bright Backdrop
ZY Blinds Cordless Roller Shade
Colorful roller shades are more expensive – and more of a risk: will the color be right? See if you can purchase a sample of the shade fabric before you commit.
Clip on Zoom Lens
Sirui Black 60mm Portrait Lens
59mm or 60mm Cellphone clip-on lenses are a great way to flatter your face, and keep your shot within the backdrop without having to crop in post. You can clip this lens onto most cell-phones, tablets and even laptop cameras. This attachment is for your standard medium close-up shot. You'll want to remove it for a "cowboy" (knees to top of head) or full-body slate.
Ring Light
LS Photography Selfie Ring Light
A ring light is an ideal primary light source if you are going to work exclusively in a medium close-up. The light is soft and flattering, and makes your eyes sparkle. Great especially for comedy, romantic comedy, and commercial work.
LED Bulbs
AmazonBasics 100W Equivalent, Daylight, Dimmable, 15,000 Hour Lifetime, CEC Compliant, A21 LED Light Bulbs | 6-Pack
For fill light in your medium close-up, or for your primary sources for a wider shot, you'll need nice bright lights, softened with some diffusion. There are many, many variations on LED fixtures. You want very bright, dimmable, daylight bulbs, so you don't start to look jaundiced. LED's save energy, and are more affordable in the long run. CEC's are the most color-accurate.
Sure, you could buy a fancy barn-doored LED light that's meant to be portable, travelling to set, but you'd still need to power it, and let's face it, they aren't pretty. Why not just put a truly excellent bulb into one of your existing fixtures? You'll still need to figure out diffusion, but more on that below…
Diffusion, on the Cheap
Just Artifacts 18-Inch White Chinese Japanese Paper Lanterns (Set of 5, White)
You need diffusion. Most affordable cameras (and definitely laptop cameras) need a lot of light to produce crisp images. And bright light can be super harsh. Enter the humble Chinese Paper Lantern. You'll be amazed at how crisp, yet soft your face looks when you put one of these on a nice bright daylight bulb. For starters, they are so much more affordable than investing in diffusion cloth and frames or soft boxes. And they look good enough to just leave out around the house if you don't want to pack your home studio away after every shoot. Use any old stray table lamps or floor lamps that you can press into service to house and power your LED bulbs with Chinese Lantern Diffuser/Shade. You might have to McGyver the lantern onto the lamp's harp a little, but, hey!, you're creative and you have old wire hangers laying about. You can do this!
Lavalier Mic
AmazonBasics Lapel Microphone ­ Omnidirectional Mic – Black, 2-Pack
Always use a lav mic when you're shooting a self-tape. Always. You want the casting director to be able to hear the lovely, fully nuanced flow of your voice, and not a bunch of background noise. A one mic, lavalier set-up will also favor your performance and not your reader's, which can be a problem if you aren't using a lav and your reader (or your virtual reader's speaker) is closer to the camera than you are. This can save you hours of work rebalancing and denoising audio in post.
I will be honest, I haven't tested this particular mic set yet. But it is very well reviewed, and it is the type of mic most of you are going to need for your shooting set-up. Before you buy, you're going to want to find out if your recording device needs a TRS or a TRRS plug. This is a TRRS, which works with most cellphones, tablets and laptops. But don't assume. Do your research. When I was first on this journey, I bought multiples of the wrong kind of mic. Avoid that pain.
Phone Tripod
Linkcool Octopus Tripod with Wireless Remote
This is another one that I don't own yet (it's actually on the way – I'll update with a new pick if I hate it).
Don't try to balance your phone on a mug on top of a pile of books to get the lens to the proper eyeline. Just don't. Again, learn from my pain.
A flexible phone tripod and a remote to stop/start video can help you stay focused on the work instead of fussing with technology. And isn't that what we want? To be able to focus on the work? I thought so.